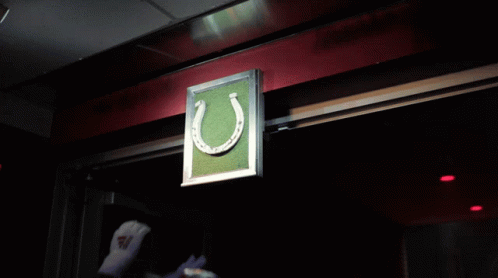 Nebraska horseshoe
As legend has it the horseshoe was found on the Nebraska Field after Nebraska defeated Notre Dame in 1922. The following year, when Nebraska played Notre Dame all the players touched it before the game. Nebraska won the game and from then on we've used the horseshoe as a bit of good luck prior to kickoff.
We don't own any of this content.
If it's yours and you want it removed, just drop us a line and we'll remove it.
Listen
May 26, 2023

Huskers Radio Network Podcast - Peyton Robb

May 25, 2023

Daniel Kaelin's path to Nebraska commit, and Big Ten baseball talk

May 24, 2023

Pick Six Podcast: How QB Danny Kaelin fits into Matt Rhule's system, plus more on Ted Carter

May 24, 2023

Husker247 Podcast: Tournament time and Kaelin chatter

May 23, 2023

Sports Nightly - Trev Alberts Show 5-22

May 17, 2023

Huskers Radio Network Podcast - Till Steinforth

May 16, 2023

Pick Six Podcast: Why Nebraska didn't land Dylan Raiola, and how Matt Rhule is recruiting so far

May 16, 2023

Husker247 Podcast: Tight end talk and 2024 QB moves

May 12, 2023

Nebraska softball's postseason chances and the latest football news

May 11, 2023

Talkin' Husker wideouts and The Wheel of Topics returns

May 10, 2023

Sideline Slice with Sirles - Episode 20

May 9, 2023

Talkin' Husker running backs and much more

May 9, 2023

Sports Nightly - Matt Rhule

May 8, 2023

Huskers Radio Network Podcast - Julian Assibey

May 7, 2023

Huskers Radio Network Podcast - Kelli Ann Strand

May 4, 2023

Sports Nightly - Ava Bredwell

May 4, 2023

Husker247 Podcast: Spring QBs review, Nebrasketball portal momentum

May 3, 2023

Pick Six Podcast: Where Nebraska's roster stands after the transfer portal closed

May 2, 2023

Sports Nightly - John Baylor

May 2, 2023

Transfer portal closes, NFL Draft and Nebrasketball gets a point guard

Apr 28, 2023

Husker247 Emergency Pod: Casey Thompson hits the portal

Apr 28, 2023

Sports Nightly - Merritt Beason

Apr 27, 2023

Husker247 Podcast: Portal and NFL Draft chatter

Apr 26, 2023

Our reaction to Nebraska football's Spring Game

Apr 25, 2023

Pick Six Podcast: A Nebraska spring game unlike any other

Apr 25, 2023

Husker247 Podcast: Wrapping up the 2023 spring game

Apr 21, 2023

Husker247 HypeCast: Red-White Game

Apr 19, 2023

Previewing Nebraska's spring game and Frank Solich's return

Apr 13, 2023

Podcast: The Spring Game approaches, Nebraska basketball's transfer portal efforts

Apr 12, 2023

The little-known rule that could benefit Matt Rhule

Apr 5, 2023

What the return of Frank Solich means to Nebraska

Mar 29, 2023

The many ways Nebraska football is under new Rhule

Mar 24, 2023

First impressions of Nebraska football's spring practice, WNIT run ends

Mar 21, 2023

Nebraska football players don't want to be 'babied' anymore

Mar 18, 2023

Spring football is here, and so is postseason basketball

Mar 16, 2023

The burning questions about Nebraska football entering spring practice

Mar 8, 2023

Podcast: Nebraska's chances in the Windy City, and more from Matt Rhule's presser

Mar 1, 2023

Husker hoops teams make postseason push ... and volleyball at the stadium?

Feb 15, 2023

Does Nebraska's upset win over Wisconsin guarantee Fred Hoiberg's return?

Feb 5, 2023

Recruiting class standouts, ideas for Hoiberg, and random segment