Hi!
Welcome to MyHusker.Com - We search the internet for Husker articles, podcasts and videos and put them in one convenient site.
My name is Andrew Stepan and I grew up in the tiny town of Holmesville, Nebraska, about 40 miles south of Lincoln. It's the kind of place that people from other states imagine when they think of Nebraska. Gravel roads and fields of corn and soybeans as far as the eye can see. I am quite literally, and happily, the definition of a stereotypical Nebraskan (minus the overalls).
Growing up in the '70s and '80s and attending UNL in the 90s, I witnessed some of the best football Nebraska had to offer. It bonded people to each other and helped create a sense of community. Fast forward 30 years, through highs and lows, our love for Nebraska football remains as strong as ever.
At the ripe age of 24, I packed up my life and headed for the bright lights of New York City. I'm not sure you realize how much you love a place until you leave it, which is why staying up-to-date with Husker football was so important – It helped keep me in touch with my roots. However, finding news about Nebraska in the big city isn't as easy as picking up a copy of the Journal Star at your local Casey's.
The websites that were available weren't as 'friendly' as I wanted them to be. So what does a Nebraskan do? Well, I built a site the way I would want to see content, and then I linked it to most of the major news outlets around the state with the goal of creating a dashboard for my morning that includes videos, podcasts and articles. I'm not trying to build a business, I built this for the love of sharing Husker sports and enhancing the Big Red community.
Enter MyHusker.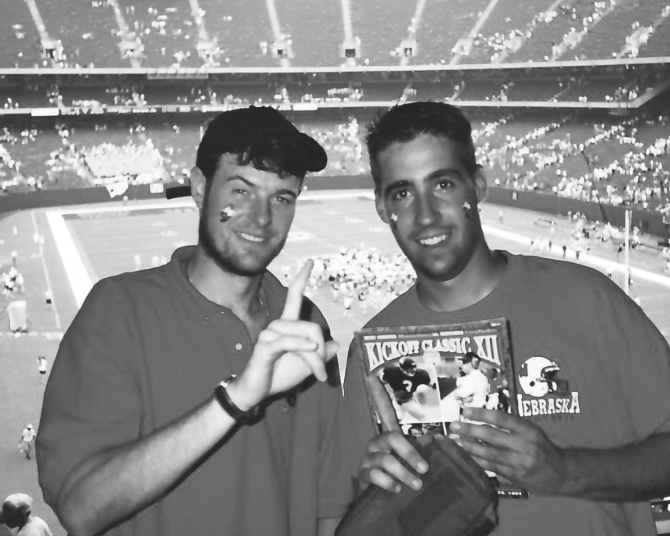 Today, I live in Connecticut with my amazing wife and two kids, where I own a technology company called Barnyard Creative. Luckily, the cob didn't fall too far from the stalk, both of my kids enthusiastically keep the love for Husker football alive and well. That's the idea, right? To help shape the next generation of the greatest fans in college football.
I hope you get as much out of the site as I do by sharing with you.
GO BIG RED!
FAQ
So you found my site, now what?
Use it. It's a simple site with all the latest articles, videos and podcasts from Nebraska sports.
Andy, why did you build this?
I built it for myself. I own a technology company and wanted a one-page dashboard where I could find all my Husker news every morning.
Andy, is that a photo of you?!
It's a photo of me (on the right) and my brother-in-law Doug, at the 1994 kickoff classic in East Rutherford, New Jersey. You can guarantee neither of us look like this in 2021!
Andy, can you add my site?
By golly I can! If you have a site that produces Husker content,
contact me
and we'll get it added to the site
Andy, please remove my content from your site.
Yea, I get it. Not everyone is excited about having their content displayed on MyHusker. Please keep in mind that my user-base grows every month (substantially) so it could help your site traffic more than it would hurt it. But most definitely if you want your site removed from my index, i'll gladly do it, just
send me an email
!
Andy, do you make money on this site?
I make no money some money from MyHuskers. The little money I make goes to buying dinners for my wife to appease her from losing every Saturday night during football season.
Andy, will the Huskers ever return to national glory?!
Do I look like I have a crystal ball?!
Andy, how do I contact you?
I'd love to chat. Throw me an
email
and lets talk!
Andy, I have a Nebraska related site and I was wondering if you could put a backlink on MyHusker?
That's what Nebraskans do, we help each other. Send me your link and all your details, and I'll put it up here
Husker Friends
!