Big Ten West Standings
2023 Nebraska Football Schedule
Bye Week – Wednesday Presser Coverage
Coaches and Players met with the media halfway through Nebraska's Bye Week. Please check back frequently as news gets released throughout the day.
Frost on Adrian Martinez health: "I think there will be a time when I can talk about the things that he's been dealing with. But he came out of the game clean, so he's going to be as healthy as he's been a week from Saturday."

— Brian Christopherson (@Husker247BC) October 20, 2021
One of Scott Frost's themes today in media appearance: Huskers have to get over hump, "get an inch better."

My take: First- and second-round talent help greatly in that regard. It's prime recruiting season. Go find some of that.

— Steven M. Sipple (@HuskerExtraSip) October 20, 2021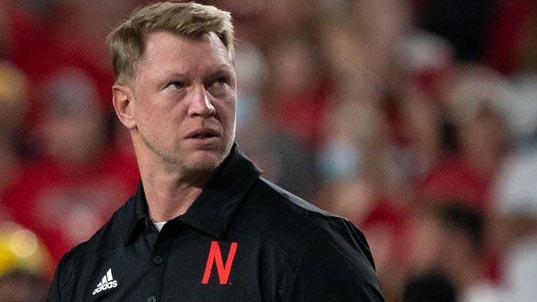 Husker head coach Scott Frost had a mid-week meeting with the media during the bye.
Read more
Listen
Sep 28, 2023

Husker247 HypeCast: Michigan

Sep 27, 2023

How Nebraska should feel about 2-2 start; Husker volleyball still unbeaten

Sep 27, 2023

Less hype for Nebraska vs. Michigan? Plus the Huskers' offense goes old school

Sep 26, 2023

Husker247 Podcast: Wrapping up non-con ahead of Michigan

Sep 24, 2023

Sunday Side Session: Ugly winners are still winners

Sep 22, 2023

Heinrich Haarberg/Jeff Sims debate continues

Sep 21, 2023

Husker247 HypeCast: Louisiana Tech

Sep 20, 2023

Nebraska looking for answers at quarterback, running back ahead of Louisiana Tech

Sep 19, 2023

Husker247 Podcast: Where things sit for the Huskers after Week 3

Sep 17, 2023

Sunday Side Session: Victory Sunday in Lincoln

Sep 14, 2023

Husker247 HypeCast: Northern Illinois

Sep 13, 2023

Too harsh, too soon on Nebraska, Matt Rhule? Plus Husker volleyball's Top 5 win

Sep 13, 2023

What's next for Nebraska at quarterback?

Sep 12, 2023

Husker247 Podcast: Questions to answer after tough start to 2023

Sep 10, 2023

Sunday Side Session: What happens following this Colorado loss?

Sep 7, 2023

Husker247 HypeCast: Colorado

Sep 6, 2023

Can Nebraska fix its offense and looking ahead to Colorado rivalry

Sep 6, 2023

Volleyball records broken, Nebraska's 0-1 start, Colorado preview

Aug 29, 2023

Predicting Nebraska's 2023 win total, previewing Minnesota

Aug 29, 2023

Pick Six Podcast: A huge week for the Huskers — Volleyball Day in Nebraska, Matt Rhule's debut

Aug 25, 2023

Nebraska Volleyball Day, and why John Cook really likes this team

Aug 23, 2023

Kicking off NU fall sports, Part 5: Recapping Nebraska volleyball's scrimmage and previewing the 2023 season

Aug 23, 2023

Kicking off NU fall sports, Part 4: Breaking down recent Nebraska fall camp news

Aug 23, 2023

Kicking off NU fall sports, Part 3: Who will win the Big Ten West?

Aug 23, 2023

Kicking off NU fall sports, Part 2: Breaking down Nebraska football's offense

Aug 23, 2023

Kicking off NU fall sports, Part 1: What does Ted Carter leaving mean for Nebraska Athletics and why it matters

Aug 17, 2023

Nebraska defense: Mr. Dependable, breakout candidates and more

Aug 10, 2023

Previewing the Nebraska offense

Aug 2, 2023

It's time: Nebraska football begins fall practice

Jun 15, 2023

How Jordy Bahl changes Nebraska's 2024 expectations